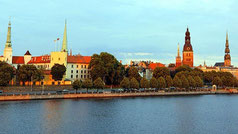 Today, on 19th March, the Pro Sanctity Moviment in Latvia celebrates 10 years of activities at the Riga Centre as well as 20 years of presence in the Baltics. 
 It was 1996 when the first Apostolic Oblates arrived in Latvia and began to sow the seeds of the charism of holiness and fraternity.
Members of the Pro Sanctity Moviment in Italy join Latvian children, youths and families to celebrate this event with deep gratitude and trusting prayer.
Deep gratitude for the joy to see that the same charism blossoms and grows also in far-away lands.
Trusting prayer for the certainty that the Lord protects the steps of those who believe in Him and leads them according to His will.
Happy Birthday Latvia!